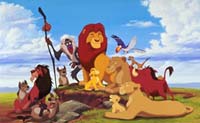 Brian's Huge and Comprehensive
(Read: I Have No Life)
Lion King Page!
Last updated: Yesterday!
---
---
Toggle Expert Mode: Text-Only/Frequent User version of this index page.
---
Welcome... to my humble home.
If the truth be known, I've never really been a true Disney fan-- that is, an unconditional maniac of all things Disney has ever done. I've only liked Disney since 1989. But what's appeared in recent years has been phenomenally cool, and it's all culminated in The Lion King. This film is what I consider to be Disney's deepest, most mature, most enjoyable, best animated, best developed, best musically scored, best voiced, and pretty much all-around "best" and "most" film they've ever done. I have certainly become a die-hard fan, and I have been since the first minute of the first time (of five) I saw it in the theater early last summer. And to that end, I have compiled this Web page for the use of like-minded fans. I've done my best to collect as much stuff-- images, text files, scripts, etc.-- as I think would be interesting to most visitors here. And I'm always looking for more. I appreciate your patronage and welcome your feedback. So, have fun, and Ithabise! Busa Simba!
---
New, with profuse thanks to Jennifer Sarantites, who generously designed and wrote it: the Main Menu Page for this TLK archive!
---
This page has made it to the limelight of print. Check out this excerpt from The Washington Times of May 1.

The text is from The Art of The Lion King, and it was graciously typed up by Matt Robinson. Thanks, Matt!
---
The TLK FAQ!
PIX!
Go here to see my latest Work In Progress.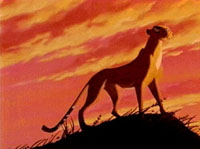 ---
My rapidly expanding Text Files archive.
---
---
---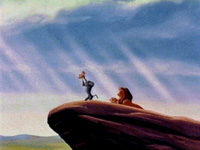 This place is cool. You'll find lots of QuickTime movies, JPEGs, text files, etc. for several Buena Vista movies simultaneously. If you want to go straight to the TLK Press Room and skip over the preliminary inline images, that's also cool. You'll find a lot of TLK stuff straight from the lion's mouth: all the promo JPEGs (the first ten in the Image Archive listing), thirteen QuickTimes (all quite good), and a couple of sets of credits and notes which are worth checking out.
---
Related Home Pages
Unfortunately, until I take over the world, there are other people who have more TLK stuff (and cooler general Disney home pages) than you see here. So, to give them due credit, here are links to their pages:



---
Movie Details
Here's a link to the Movie Details, including info on awards won (well, the Academy has decided against it-- except for the music), lots of reviews (both good and bad, both professional and amateur) and pretty much a definitive list of general stuff.
---

This is a complete listing of all the bloopers in the movie that shouldn't have been made... but, well. Nothing is perfect, not even TLK.
Scripts
There are two semi-official scripts out there, each with its own relative merits: one is ASCII and contains minimal extraneous stuff, and is far more textually accurate than others I've seen; the other one is formatted for MS Word for easy printing. Here they are.
The ASCII version, v3.12: my TLK script. Last updated: May 6, 1995. This script is in a state of constant change, so please mail me with any clarifications or additions or subtractions or FDIVs you feel need to be done to it. (To clarify: I merely did the majority of the editing. It was actually compiled by Phil Pollard at JMU. The credits are all at the end of the file.) This file has (purported) advantages over the other one in its conciseness of material (the ENTIRE script is there, along with all directions and annotations, but it is minus the more extraneous appendices that the other ones have) and the African lyrics, as completely as I was able to include them, from throughout the movie.

The MS Word 6.0 (PC) Version, V1.42, by Jello Biafra. This too is very complete, and contains lots of extra material culled from newsgroup discussions as well as a huge set of footnotes. Enjoy. Note: This is a binary ZIP file. You must have PKUNZIP (or an equivalent program if you are using a Mac or a UNIX machine) to use the file.
Also, since everybody seems to have his own personal HTML-format script, here's mine. It indexes my entire image and sound archives as well as other home pages and in fact a lot of the other info I have on this page. I'm not counting it as a separate script, since it's essentially the ASCII version above plus a lot of embedded HTML links.

My HTML Script
TLK Script for HTML 3.0-- won't work without Netscape!
Translated by Jennifer Sarantites.

And, to be fair, here are scripts for Beauty and the Beast and Aladdin. These are compiled by Ben Scripps, and quite complete. Sorry, I haven't found one for The Little Mermaid in my travels.
Scripts for Other Movies
(Yes, there ARE other movies out there. Incredible.)
---

And for the true die-hard Lion King fans (or at least those with a sense of humor)...
---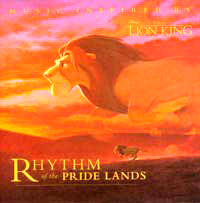 The Rhythm of the Pride Lands hit store shelves nationwide on February 28, 1995-- or at least that's what they like to tell us! Click here for the account of my odyssey for it (which was, in time, successful). Also click here for my evaluation of the CD. That is, only if you want any further details than "YES! YES! YES! This CD rules!" (which, incidentally, is approximately what my roommate and everybody within a half-mile radius hears all the time from me anyway).
---
Please register your Feedback!
---
Credits
---
(So, what do you think-- do I need psychiatric help, or what?)

(FDC Hans Zimmer)

Minor (internal) revision and imagemap referencing by
Jennifer Sarantites (sarantit@math.grin.edu)