06.19.2003 TLK DVD's German Release Date
Simba B. reports that the release date for the TLK (Der König der Löwen) DV in Germany will be October 23 .
Source:
www.lionking.org/sequels/
06.17.2003 TLK DVD Specs via BBFC
Simba B. and Jess Walzak note this forum thread at ultimatedisney.com, in which the official DVD specs-- reportedly from the British Board of Film Classification-- have been posted, along with track runtimes.

UPDATE: The direct link for the BBFC's TLK DVD information is here .

Source:
www.lionking.org/sequels/
06.05.2003 Choice of Audio Track on DVD
The Digital Bits reports that the print will have "more clarity and vibrancy" due to digital enhancement and restoration. Also:
In addition, a special Enhanced Home Theater sound mix has been created for the first time on this DVD release, that is specially designed to "envelop the listener in the sound" and enhance the emotional impact of the film. You will be able to choose to view either the original theatrical version of the film or the new special edition version (with the new musical number, Morning Report, created by the original filmmakers). And, for BOTH versions of the film, you will be able to choose to listen to either the original theatrical audio, or the new Enhanced Home Theater mix.
Via Simba B.
Source:
www.lionking.org/sequels/
06.04.2003 Toronto TLK Musical Shutting Down
Again from Simba B, Toronto's production of The Lion King on Broadway is going dark on September 28.
"The Toronto production of Disney's The Lion King will end its run at the Princess of Wales Theatre Sept. 28, after more than three years and 1,300 performances."
See it while you can.
Source:
www.lionking.org/sequels/
06.03.2003 TLK/Brother Bear Connections
Simba B. notes that there are a number of common names in the credits of TLK and Disney's upcoming animated feature, Brother Bear . What is interesting is that co-director Aaron Blaise was the supervising animator for Young Nala in The Lion King. Also, composer Mark Mancina worked on The Lion King's Music (" Just Can't Wait to Be King"), The Rythm of The Pride Lands, and The Lion King Musical. The voice of Denahi is Jason Raize from the Lion King Musical. Jason Raize played Adult Simba from the Original Broadway Cast.

I found out that one of the writers of Brother Bear and the supervising animator Broose Johnson also animated Young Simba from the Lion King. Looks like another film from Disney's A-list team, though the story appears to owe a lot to Spirit: Stallion of the Cimarron .

UPDATE
06.05.2003: Masika notes that: At Disney's California Adventure there's an Animation Building and you get to see a clip of Brother Bear. It shows Alex Kupershmidt as the lead animator on the bear cub Koda. Alex Kupershmidt was the lead animator for the three hyenas in The Lion King.
Source:
www.lionking.org/sequels/
06.02.2003 Region 2 Posts TLK DVD Article
At r2-dvd.org , there's a new article on the TLK Special Edition DVD with some good info on the movie's statistics and what we can expect from the DVD.

Via Simba B.

Source:
www.lionking.org/sequels/
05.22.2003 Disney's Extreme Skate Adventure
Leon Matt Thomsson sends me the following information from the E3 convention regarding Disney's upcoming skateboarding game, "Disney's Extreme Skate Adventure". OVERVIEW

Everyone's favorite movie characters are hopping on their skateboards and taking it to the streets as they do ollies through the world of Disney's "The Lion King," catch big air in the jungle of Disney's "Tarzan®" and become a rail-grinding Woody in Walt Disney Pictures' presentation of Pixar Animation Studios' "Toy Story 2." Disney's Extreme Skate Adventure is the only game that allows players to test their skateboarding skills in these large and imaginative worlds while incorporating Activision's powerful Tony Hawk's Pro Skater® 4 game engine. Disney's Extreme Skate Adventure lets players perform skating tricks just like the pros – but as their own unique create-a-skater kid or favorite character. Players skate using non-traditional boards like bamboo rafts and frying pans, solving puzzles as they go.

FEATURES
Create a skater — Players design their own game character then send him or her through both real world and movie locales. Secret areas and collectibles can be found throughout all the levels.
Movie locations — Fans enter the worlds of Disney's "The Lion King," Disney's "Tarzan" and Walt Disney Pictures' presentation of Pixar Animation Studios' "Toy Story 2" as they skate and solve puzzles in many of the exciting places they have seen in the movies such as Pride Rock, Tarzan's Treehouse, Pizza Planet and more.
Movie characters — For the first time ever, gamers can skate as 12 different characters from Walt Disney Pictures' presentation of Pixar Animation Studios' "Toy Story 2," Disney's "Tarzan" and Disney's "The Lion King," such as Buzz Lightyear, Woody, Young Tarzan and Simba. Plus, 15 non-playable Disney friends and foes interact with players throughout their adventure.
Pro Moves — Gamers can skate like the best, incorporating sweet tricks like ollies, rail grinds, spins and other expert balance moves. They can also try their stuff on traditional skateboards, Victorian mirrors, frying pans and other cool foot rides. Tricks can be pulled off of any of the surfaces in each world, such as grinding on dominoes in Andy's Room, spinning a board off trees in the Jungle Treehouse, and ollieing over bones in the Elephant Graveyard.
Multiple modes — Fans can practice tricks in Free Skate Mode, complete goals in Adventure Mode and compete against friends in split-screen two-player mode. Multiple difficulty settings make it fun for everyone.
It's been shown at this year's e3 and the game will come out this summer. The only problem is that it's already getting bad reviews, as people hate it as they said it is a ripoff to Tony Hawk Pro Skater. The thing is, this game has more of an adventure with skateboarding while THPS was mainly gather points and unlock movies, etc. So who knows how bad or good this game will be.
Source:
forum.planetlionking.com
05.21.2003 TLK DVD Preorder from WH Smith (UK)
The UK chain bookstore WH Smith has begun offering preorders of the Special Edition DVD/VHS. A £1 deposit toward the purchase gets you a free TLK mug, as the flyer for the offer (at right) says.

(Well, it says "mug"; I guess it's a TLK mug.)

Thanks to Reepacheep for the tip!

UPDATE: Brittany Conley notes some other preorder offers in the works: I went to FYE (For Your Entertainment) at the local mall and preorder is available for The Lion King. If you preorder at any FYE, you will also receive a special collector's Simba coin when the movie is picked up. I know you can also order online at fye.com, but I'm not sure if that free gift is available online as well.

Apparently HMV in Canada is also giving out Pumbaa bobbleheads for preorders (again, available for pickup once the video is released).

Source:
www.lionking.org/sequels/
05.17.2003 Self-Destructing DVDs
Not daunted by the failure of Circuit City's stupid pay-for-play DiVX disc format, Disney has been developing a kind of rental-friendly DVD that chemically self-destructs after 48 hours. The discs stop working after a change in color renders them unreadable. They start off red, but when they are taken out of the package, exposure to oxygen turns the coating black and makes it impenetrable by a DVD laser.

Buena Vista hopes the technology will let it crack a wider rental market, since it can sell the DVDs in stores or almost anywhere without setting up a system to get the discs back.

The discs work perfectly for the two-day viewing window, said Flexplay Technologies, Inc., the private company which developed the technology using material from General Electric Co. Thanks to animated-movies.com and Tanabi for the pointer.
Source:
www.lionking.org/sequels/
05.09.2003 Release Dates Set, TLK1.5 Details Confirmed
Submitted by Simba B. and Kirsten Gilson-- here's a story from The Hollywood Reporter that gives a lot of insight into the DVD release schedule and particularly into the nature of TLK 1 1/2 (which is no longer called "Hakuna Matata", but which now seems to be more of a "Behind the Roars" sort of thing): Disney Fills 'Lion' Gaps with '1 1/2'

The Hollywood Reporter officially announces that the Walt Disney Co.'s pint-size Lion King will return in a home video version next spring to bridge the action from the original 1994 animated feature and the 1998 direct-to-video sequel "The Lion King II: Simba's Pride."

"The Lion King 1 1/2", due in early spring 2004, will offer an "irreverent, edgy, humorous back story" to the original told from the perspectives of characters Timon and Pumba, who are again voiced by Nathan Lane and Ernie Sabella, respectively.

Matthew Broderick will reprise his role as Simba, while Elton John and Tim Rice return with the new song "Meerkat Rhapsody."

Disney has high hopes for "Lion King 1 1/2", which will not carry a subtitle in the fashion of "The Lion King II: Simba's Pride". The original "Lion King" will be out in a first-ever Disney DVD two-disc set October 7 with a new John-Rice song, "Morning Report," and loads of special features. That will be followed by "Lion King 1 1/2" and then a special-edition DVD version of "Simba's Pride" in fall 2004.

Slipping the video premiere of "Lion King 1 1/2" between the "Lion King" and "Simba's Pride" rerelease "reflects a philosophy that the property is bigger than any one channel" of release, said Robert Chapek, president of Disney's Buena Vista Home Entertainment unit.

"Lion King 1 1/2" will be marketed to the broadest possible audience, from "anyone who bought the original 'Lion King' plus anyone who's come into the marketplace since then," Chapek said. Ad spending and marketing campaigns have not been defined, but they will reflect the importance of the franchise, he added.

Disney also will attempt to hook new consumers on the original's two-disc DVD with surround sound that is being specifically designed and mixed for home theater systems.

"This is going to be a whole new experience for consumers who have 'The Lion King' on VHS already," Chapek said. "The theatrical mixes are certainly optimal for theaters, but home theaters are set up differently. So our philosophy was, a movie like this deserves special customized mix for (DTS) 5.1 customized home channels, and that's exactly what we did."

The yearlong publicity and advertising effort also will be boosted by a new wave of licensed merchandise to create in-store displays and keep the franchise visible to consumers, he said.

"The Lion King 1 1/2" DVD will also provide music videos, deleted scenes, behind-the-scenes views of how the movie was made and two featurettes: "Timon - The Early Years," a mockumentary tracing Timon's childhood through tongue-in-cheek interviews with family and friends; and "Disney's Funniest Moments," highlighting Disney animated characters from the Seven Dwarfs to Brother Bear.

Two games also will be included: a virtual safari "backlot tour" through the Pridelands and a Lion King trivia game in the format of a "Who Wants to Be a Millionaire" parody.
So it's clearly not going to compete with TLK1 in the "epic scope" department; but we knew that already. It does, however, seem to be a great deal more silly and self-aware than TLK2; I guess as long as they're this up-front about it, it could be a lot of fun.
Source:
www.lionking.org/sequels/
05.06.2003 "Platinum Collection" Schedule Accelerated (and enriched)
Not specifically Lion King -related news, but Animated-Movies.com reports the following:
- Beginning next year, Disney will release two Platinum Editions every year, in March and October. Titles will be available for two years, then put on moratorium for only five years. That way, Disney can release all its animated titles on DVD by 2007, when the company expects HD-DVD to be available. Sleeping Beauty, Pinocchio, Fantasia and Peter Pan are also being added the Platinum Collection.
Interesting. So this means there will be another re-release cycle of everything after 2007, on HD-DVD? Yikes.
Thanks to Tanabi for the tip!
Source:
www.lionking.org/sequels/
04.27.2003 IMAX Trailers
Simba B. has also found these trailers for the IMAX release, from last December, at ComingSoon.net . They're in QuickTime format; also, the title links are mixed up, so beware.
Source:
www.lionking.org/sequels/
04.26.2003 New Product Photos
Disney has posted a couple of new images on their product pages for the various DVD gift sets; these ones show the Simba and Rafiki plushies and the collectible pin. You can also see (in the first one) that the new jacket art is present on both the DVD and VHS cases. Yes!
Thanks to Simba B.

Source:
www.lionking.org/sequels/
04.24.2003 Special Preorder Lithograph Offer
Simba B. has found some interesting special offers at The Disney Store Online . The following offer is for $19: Pre-order by October 6, 2003, and get our exclusive set of 4 Bonus Lithographs in a collectible portfolio. Plus, add our exclusive 5 1/2'' H Simba and Rafiki Mini Plush and collectible pin! Offer expires October 6, 2003, or while supplies last. Available to own October 7, 2003. And $59 gets you four custom etched wood frames for the lithographs to boot. Sounds like a pretty sweet deal.

Also, there's this new composition of the Gift Set, which (fortunately) clearly shows the new box art on the DVD case.

But the promo art for the lithograph offers shows the DVD box with the old art . C'mon, guys, don't keep us in suspense...

Source:
www.lionking.org/sequels/
04.21.2003 Things To Watch For
"Pride One" sends me word of certain milestones to be on the lookout for in the run-up to the October release, and some probable forms that the various pieces of merchandise will take. DVD preorder: If you remember the Beauty and the Beast preorder promotion the Lion King release will be very similar, with a preorder special edition pin, in June.

Special Edition soundtrack: As predicted a Special Edition soundtrack will be released. There also there will be a multi disc set which includes the new Special Edition soundtrack with the Rhythm of the Pridelands and Return to Pride Rock CD's all in one package. Release should be in September.

DVD Read and Sing Alongs: There will be a special Lion King read along and sing along DVD released in April by Buena Vista Home Entertainment. These DVD's include lots of features including a learning function to translate key vocabulary words in 5 languages. Visit www.DVDReadAlong.com for more info.

Games: I saw a poster with a new Lion King game to be released, the cover was the same design as the IMAX poster (ya know the red one). Also there will be a new skateboarding game in which you can ride as your favorite Disney character, very interesting how Simba looks on a skateboard. No dates included here.
He also sends the picture at right, a promo poster for the DVD release that was at the Buena Vista Home Entertainment booth at the Disney's 2003 "Cast Blast"; it appears to be set up like a piece of DVD cover art, though it doesn't really resemble anything we've seen so far. Could be an alternate design...

He also sends the picture at right, a promo poster for the DVD release that was at the Buena Vista Home Entertainment booth at the Disney's 2003 "Cast Blast"; it appears to be set up like a piece of DVD cover art, though it doesn't really resemble anything we've seen so far. Could be an alternate design...
Source:
www.lionking.org/sequels/
04.18.2003 Press Release on TLK Special Edition DVD
A very interesting press release-- seemingly official-- can be found over at UltimateDisney.com's forum .

Also, lionking.org's TLK on Home Video page has been updated with the new info on the releases that we've heard to date.

Source:
www.lionking.org/sequels/
04.16.2003 Official DVD Specs Released
IGN has the scoop.

Thanks to Simba B, Jess Walzak, et al.
Source:
www.lionking.org/sequels/
04.15.2003 Disney Updates TLK Special Edition Detail Pages
Disney's put up information pages for the TLK Special Edition VHS and DVD . Not much info we don't know already, plus it has a typo ("Additonal Formats:").

The thumbnail images are a little worrisome, though: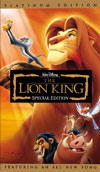 Looks like the VHS cover (left) has the new, redone image, but the DVD cover (right) still has the old, stupid one. I hope this is just a compositing error, and that both formats will carry the updated image.
Source:
www.lionking.org/sequels/
04.14.2003 DVD Trivialities
Simba B. forwards two possibly interesting pieces of information: "According to Disney, The Lion King will be presented in 1.66:1 anamorphic widescreen, the original animation ratio, and not over-matted to 1.85:1." And... I was browsing around on www.dvdempire.com when I saw something under their " Lion King, The: Special Edition" information page:

Collectible Packaging Opens Like A Book

I don't know how official that information is, but I thought I'd let you know. It looks like the Lion King DVD won't be in Amary Keep cases?
Source:
www.lionking.org/sequels/
04.09.2003 Special Edition Longer By One Minute?
Tanabi forwards these two items from animated-movies.com:
According to Play.com, The Lion King's Special Edition will run 89 minutes long, only one minute longer than the Original Theatrical Release--the only difference between the two being the whole new song and animation for "The Morning Report".
And...
Second Guess on Morning Report Scene
In response to yesterday's article, 'Joel' notes that while The Lion King's Special Edition might only be one minute longer, the new song and animation are more than likely several minutes long. " Here is a copy of the current dialogue from the movie. Now, read the lyrics to Morning Report. You will notice that the two are very similar. Hence, what the difference in length means is that by the time Disney removes the dialogue, and inserts the song, the remaining time difference is only a minute. The song is one minute longer than the dialogue." Now, the information he cites all comes from right here at lionking.org, so who knows whether this tells us anything new or not... :)
Source:
www.lionking.org/sequels/