09.10.2003 Release date for TLK 1.5 posted?
Barnes & Noble has the following track listing , spotted by Simba B.:
Circle of Life / Carmen Twillie
I Just Can't Wait to Be King / Rowan Atkinson
Be Prepared / Cheech Marin
Hakuna Matata / Ernie Sabella
Can You Feel the Love Tonight / Ernie Sabella
The Morning Report / Jeff Bennett
This Land
...to Die For
Under the Stars [Instrumental
King of Pride Rock
Circle of Life / Elton John
I Just Can't Wait to Be King / Elton John
Can You Feel the Love Tonight (End Title) / Elton John
Can You Feel the Love Tonight / Elton John
Source:
www.lionking.org/sequels/
09.07.2003 TLK Special Edition Soundtrack with Lenticular Sleeve
Spotted by Simba B; in addition to the regular Special Edition soundtrack, Amazon.com is apparently selling an alternate UK version in a lenticular sleeve, with different cover art-- featuring Adolescent Simba on that log during "Hakuna Matata". Release date is given as October 27.

Source:
www.lionking.org/sequels/
09.07.2003 Timecode Magazine Cover Story
Timecode Magazine, which serves video rental chain stores in the UK with industry news and new-release information, has a cover story this month on the TLK DVD Special Edition. click here and then click the "features" link to read the intro to the story. (The rest is available by subscription.)
Rob Jongmans, senior vice president with Buena Vista Home Entertainment Europe reiterates the importance of the special edition: "The Lion King created the biggest entertainment phenomenon ever in its initial release and we are confident that this success will be unsurpassed when it is released." Peet continues: "The Lion King is still the biggest animated film in terms of video sales and the intention with the Platinum titles is to make the biggest splash we can. We've genuinely tried to pull out all the stops to make this one of the best DVDs ever."

Whilst that might be considered to be quite a claim, it doesn't appear to be an unrealistic one. Certainly the DVD is far and away above what might be expected for most aniamted films, even most live-action classics. The disc comes with the original theatrical version of the film as well as a new, re-mastered edit that features The Morning Report, an all-new song composed by Elton John and Tim Rice, that arrives with a never before seen aniamted sequence featuring Zazu, the feathered emissary to the king. And as you will see, the list of extra features doesn't stop there.
Spotted by Elfasi.

Video Game News
Noticed by Simba B. and Simba's Lil' Lioness-- the Disney Store Online has been busily updating itself with "coming soon" and "new release" items for both the TLK DVD SE and the upcoming TLK3/TLK1.5. We already knew about the TLK 1 1/2 game for the Game Boy Advance; but news to me is that they're also bringing out a "The Lion King Classic Collection" CD-ROM, which (oddly) doesn't contain the old multi-platform TLK game, but instead has three learning-style games aimed at kids.

"The Lion King 1 1/2" for GBA
"The Lion King Classic Collection" CD-ROM

9/6/03 - Keebler's Exclusive Mail-In Offer
Spotted by Cass Wagner:
Exclusive Mail-in Offer from Keebler, Mini Talkin' Lion King Cookies Jars. Found on the packages of Keeber's Grahams ( Original ) Gramcrackers. You can buy Timon, Pumba or Simba for $4.99 plus 2 UPC symbols, or the entire set for $12.99 plus 4 UPC symbols. Each cookie jar is appoximstely 6" inches high, and designed to fit together as a set.

Source:
www.lionking.org/sequels/
09.05.2003 Truly Original Version on DVD, says USA Today
Simba B. forwards me this USA Today article which claims confidently that the version of the original movie that's on the DVD will be the real original theatrical mix, not just the new Special Edition with the "Morning Report" snipped out.
The original version of The Lion King, with no remixing, no tinkering and no new song, will also be included in the DVD.

"The purists out there can see the movie exactly as it was in 1994," Hahn says. "Those who enjoy seeing new innovations can sing a new song."

Ho thinks he knows which you'll choose.

"Nine out of 10 people will prefer the home theater mix," Ho predicts. "I mean, the wildebeests feel like they're stampeding over your head."
Maybe, maybe. But those 1 out of 10 of us might like to see the clouds retreating after Mufasa's ghost's appearance, for instance...
Source:
www.lionking.org/sequels/
09.02.2003 US/UK Soundtrack Art Revealed
According to Amazon.com , the TLK Special Edition Soundtrack will carry the same visual design for both the UK and US releases.

Thanks to Simba B.
Source:
www.lionking.org/sequels/
09.01.2003 French DVD/VHS Promotion
There's a DVD and VHS bundle/promotion being sold at the French alapage.com. It's a collectible bag with a plush Simba toy, an exclusive edition of the TLK book, and the complete original soundtrack.

Via Simba B.

Source:
www.lionking.org/sequels/
08.30.2003 Back-to-School Merchandise
Wal-Mart is stocking new TLK stuff to coincide with the DVD release, which coincidentally is right in time for back-to-school merchandising:
They're also at Wal-Mart and they're some back to school items for kids. The 3D rubber things are Backpack clips, and the big package in the middle are magnets that you punch out of a sheet. On the other image, those are (obviously) pencils with plastic, character tops. I have one of each and there's also a stationary set with a tin pencil case, a Simba note pad, pencils, erasers and sharpeners. They're products of Disney Hallmark, I've never heard of it yet but with at least the word Disney they seem like worthy-of must haves.
Submitted by Lindsay Gagnon.
Source:
www.lionking.org/sequels/
08.30.2003 TLK Marketing Campaign Numbers
Yipes-- they're not kidding around about this. From animated-movies.net :
Disney Places High Hopes on Lion King DVD

Brandweek reports that Disney is investing a whopping $200 million in overall marketing support in October for the DVD debut of The Lion King--a budget that eclipses the outlay for most theatrical releases, with McDonald's, Kellog, Hasbro and Wal-Mart in tow. Support will cover three DVDs, including the Platinum Edition and the spring 2004 launch of Lion King 1 1/2: Hakuna Matata and Lion King 2: Simba's Pride.
Via Simba B.

Source:
www.lionking.org/sequels/
08.27.2003 September 30 Release for TLK SE Soundtrack
Amazon.com and Best Buy, according to Simba B., both list a release date of September 30 for the new Special Edition soundtrack CD.

Source:
www.lionking.org/sequels/
08.23.2003 TLK Karaoke CD at Wal-Mart
The marketing blitz is officially in high gear: Simba B. has found a Karaoke CD full of TLK songs for sale at Wal-Mart's online store.

Source:
www.lionking.org/sequels/
08.21.2003 Official TLK DVD Site Opens
Things are really gearing up: Disney has officially opened its newly redesigned website for the TLK DVD, complete with Flash animation, online games, downloads, and ordering links.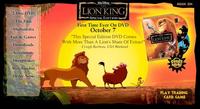 You can get to the site at either www.lionking.com or the longer redirect URL, http://disney.go.com/disneyvideos/animatedfilms/lionking/ . (lionkingdvd.com goes there too.) Thanks to all who alerted me to the news!

Source:
www.lionking.org/sequels/
08.20.2003 DVD Case Backside Revealed
DVDoo, a Danish DVD info site, has an article on the TLK DVD set that includes the artwork for the case's back panel. Click the "Vis stor bagside" link to see it. It's in Danish, but entirely likely to resemble the English version.

Via Simba B.
Source:
www.lionking.org/sequels/
08.20.2003 September 23 for Special Edition Soundtrack
Simba B. notes that Buy.com has a listing for the Special Edition Original Soundtrack CD, with a release date of September 23, 2003. You can pre-order it now.
Source:
www.lionking.org/sequels/
08.19.2003 DVD Transfer Images Posted
DVDAnswers.com has posted several examples of the transfer quality of the upcoming TLK DVD. Very nice-looking images indeed. This will be a treat and a half.
Source:
www.lionking.org/sequels/
08.17.2003 TLKoB Toronto Run Extended
Raymond Lee informs me that according to the Toronto Star, the engagement of The Lion King on Broadway in Toronto has been extended from Sept. 28 to Nov. 2, 2003 at The Princess of Wales Theatre. Tickets are available by calling (416)-872-1212, or by visiting www.mirvish.com . There's not much time left!

Source:
www.lionking.org/sequels/
08.15.2003 In-Depth TLK Production Interview
Spotted by UltimateDisney.com and Jake Lipson, this is a must-see interview with TLK producer Don Hahn and other Disney mucky-mucks. It covers a lot of ground that we haven't seen before outside the studio, surrounding the TLK production and what the studio originally expected of it. Definitely worth a read.
Source:
www.lionking.org/sequels/
08.14.2003 Free Lithographs with Disney Store TLK Preorders
Ariel at UltimateDisney.com has this piece of useful information, relayed by Simba B.:

In a week, we can pre-order The Lion King Collector's Gift Set and recieve free lithos.

"the change should take about a week but they will now be offereing the Lithos with a preorder of the Gift Set"

  I don't know if this move only affects DisneyStore.com or if it includes the retail Disney Stores.  Either way, this is great news for folks who want to buy the Lion King Gift Box Set and the free lithographs.

UPDATE: The gift set can't be ordered at the brick-and-mortar Disney Stores; you can only get it by ordering online or through the catalog.
Source:
www.lionking.org/sequels/
08.14.2003 CoL Video Premiere
Tanabi informs me that The Disney Channel is premiering the "Circle of Life" All Star music video tomorrow eveningÂ(August 15, 2003) after "The Cheetah Girls".
Source:
www.lionking.org/sequels/
08.12.2003 Digital Bits coverage of DVD Preview
Simba B. forwards this-- an article by Bill Hunt of The Digital Bits that goes into great detail about the design of the DVD presentation; it sounds like it's going to be quite a production. Don't miss this one, and jump on it early, as it might scroll off their main page before too long.
Source:
www.lionking.org/sequels/
08.11.2003 More DVD Stuff
Simba B. reports that there are two new DVD menu screens posted at UltimateDisney.com .

Meanwhile, animated-movies.net has this article from the L.A. Zoo View:

Disney supervising animator Andreas Deja recently chatted with the Los Angeles Zoo View, explaining that "I go to the Zoo every other month. We learned this from the old guys. We all worshipped the old animators who worked on the classics, whether it's Bambi or Lady and the Tramp. In talking to them, we asked how they did it, and they all said, 'We went to the Zoo.' Walt Disney always said, if you don't know the real thing, you absolutely cannot caircature and animated it. I draw at the Zoo regularly, because you never know when you're going to be assigned a penguin or a hippo, so it's good to already have basic knowledge."

For the 1994 film The Lion King, Deja was assigned Scar, the villainous uncle to the adorable lion cub, Simba. "We start out drawing a lot of lions as we see them, and then add human elements to it. I had Jeremy Irons to work with, who did the voice of Scar. The dark eyes, dark rings on his eyes, the way his mouth is shaped, the nose, the thin upper lip--I was able to incorporate some of that into Scar." He did it well enough that when he first showed Irons video of Scar, Deja says the actor touched his own mouth and said, "My God, he looks like me!" Andreas Deja adds that it is vitally important for animators to correctly illustrate an animal's movements. "If you want to draw a deer that takes a step, you have to know what's involved, where the bones are. You have to analyze all that. When you look at a lion walk, there's all that weight. When he puts the weight onto one leg and then onto the other, that shifting of weight. That all has to be in the animation." Deja concludes that he is glad Scar was a lion, not a tiger. "We do 24 drawings a second. To get the stripes in the right place every time would be very difficult!" No kidding.
Source:
www.lionking.org/sequels/