09.30.2003 Backside of DVD Case
Via Simba B.-- DVD Empire has a scan of the back cover of the DVD case, which looks different from the samples we've seen so far...

Source:
www.lionking.org/sequels/
09.30.2003 Brazilian Region 1 DVD Release Tomorrow
Thiago Medeiros writes to note that the Brazilian Portuguese version of the Special Edition DVD will be hitting stores tomorrow, 10/01. Also...
Ah one last thing; All disny dvd (until now) released in brazil are all encoded for the region 1 too! (i know it because i have an american playstation 2 and it runs all dvds of disney, but all another it shows a mensage of wrong region)

This is apparently something special Disney's doing in Brazil because the VHS version of TLK was the best-selling movie ever in the country

Source:
www.lionking.org/sequels/
09.30.2003 Worldwide DVD Debut at El Capitan Theater
Simba B. says:
FYI, there will be a Worldwide DVD Debut of Walt Disney Pictures' THE LION KING Friday, October 3 at Hollywood's Historic El Capitan Theater

Here's a copy of the offical press release http://biz.yahoo.com/prnews/030929/lam092_1.html

If we're lucky, Yahoo and some other news sites should post some pictures of the event.
Source:
www.lionking.org/sequels/
09.29.2003 DVD Reviews A-Go-Go!
The reviews of the TLK Special Edition DVD (and attendant materials) have been coming in hard and fast. Thanks to the many readers who have sent me the links.

Also note this thread at DVD Talk that has pictures of the gift set.
Source:
www.lionking.org/sequels/
09.28.2003 Wal-Mart Photo-Op
On Wal-Mart's online catalog page for the DVD Gift Set, there's the following blurb:
Visit your local Wal-Mart Photo Center on October 11th to get a complimentary photo taken with a life-size cutout of characters from The Lion King.
Thanks to Simba B.
Source:
www.lionking.org/sequels/
09.28.2003 NASCAR TLK Tie-in Updated
The Action Performance site dedicated to the TLK-themed NASCAR team with Bill Elliott and Jeremy Mayfield has been updated with a more in-depth biographical look at the team.

Sent by Simba B.

Source:
www.lionking.org/sequels/
09.26.2003 TLKoB Is In St. Louis
In case anyone's worried about the TLKoB production in Toronto shutting down, never fear-- it's coming to other places. Zentina notes that it's been playing in St. Louis, Missouri since August 22 (and will continue through October 12) a the Fabulous Fox Theater

Source:
www.lionking.org/sequels/
09.26.2003 Special Edition Soundtrack Samples Available at Buy.com
Simba B. spotted some audio samples of the Special Edition Soundtrack at Buy.com.


Source:
www.lionking.org/sequels/
09.25.2003 Toronto TLKoB Run Extended
Raymond Lee reports:
I have just been informed that The Lion King on Broadway in Toronto, Canada has been extended one final time until Jan 04 2004 The Lion King must close to make way for new productions. This is your FINAL opportunity to see The Lion King on Broadway at the Princess of Wales Theatre. For tickets and reservations call (416)-872-1212 or 1-800-461-3333 long distance toll free or order online at www.mirvish.com . THIS IS YOUR LAST OPPORTUNITY!!! TIME IS RUNNING OUT!!!!!

Source:
www.lionking.org/sequels/
09.25.2003 Official TLK Promo Materials
Courtesy of a representative of Buena Vista Home Entertainment, we now have available several pieces of promo material for the DVD release-- photos of the DVD box and gift set, banners (in JPEG and Flash format), and an official title treatment to be used as the movie logo. There's also a PDF of Lion King activity-type games and puzzles.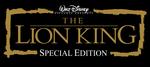 I'll be adding these materials to other parts of the site in the next few days; for now, the official promo pictures of the DVD set (and the high-res look at the CD box art) might be of interest to readers. Release day is almost upon us!

Source:
www.lionking.org/sequels/
09.24.2003 DVDFile.com Review
Jess Walzak and Simba B. point out this review , which is a little more distressing to hear about:

"Disney has not restored the original theatrical version, per se; you can watch the film either with or without the new tune, but it is still the animation is still of the IMAX'd variety only."

"...where are the real trailers?" Apparently, both the Region 1 and UK DVD set don't have trailers.

Source:
www.lionking.org/sequels/
09.23.2003 DVD Times Review
Via Simba B: DVD Times (UK) has posted a great, long review of the TLK DVD set. Overall verdict: superb. Looks like this is really going to be something special.

Lots of inline screenshots, demonstrating what they mean by the transfer quality being "reference-grade".
Source:
www.lionking.org/sequels/
09.22.2003 Enesco Christmas Ornaments Sighted in Target
Remember back on 3/10/03 when we learned that Enesco would be making TLK-themed seasonal ornaments and giftware in time for the 2003 Christmas season? Well, Caara writes with the following:
I thought I would let you know I was in Target tonight and there is a complete set of Lion King Christmas ornaments on the shelves by Enesco. I found four individually boxed "regular size" ornaments which include one mini ornament in the box. Price on the "regular" ornament with mini is $6.99. They also have a boxed set of all the mini ornaments and the minis can be purchased separately as well. Boxed set of minis is $5.99 and the individual minis were $1.99.

There is also a large water globe which plays "Circle of Life" priced at $15.99.
Source:
www.lionking.org/sequels/
09.22.2003 Hasbro Adds TLK Page
Via Simba B:
Hasbro's Disney Portal page has been updated with all the new TLK merchandise.

Source:
www.lionking.org/sequels/
09.18.2003 TLK on Corn Flakes Boxes
ShakiraFuego has submitted a rundown of all the new food items currently in supermarkets with TLK marketing tie-ins on them. Kellogg's is now selling The Lion King: Special Edition Corn Flakes boxes with both Young Simba and Big Simba in various grocery stores. Here is a scan of the Young Simba box:
http://www.shakiraholics.com/uyycornflakes.jpg (front)
http://www.shakiraholics.com/uyycornflakes2.jpg (back)
http://www.shakiraholics.com/uyycornflakes3.jpg (spoon offer - side of box)

Also, Blue Bunny now has Lion King ice cream cups called Mini-Triples. They're chocolate ice cream cups filled with fudge, marshmellow, and candy bits. They also sell the ice cream in single large tubs called Triplets. Here is a scan of the Mini-Triplets ice cream box:
http://www.shakiraholics.com/minitriples.jpg (box)
http://www.shakiraholics.com/minitriples2.jpg (an actual ice cream cup, yes it was a pain to scan!)

Blue Bunny's website has more information on the ice cream. Their Disney Ice Cream page can be found here:
http://www.bluebunny.com/products/disney_detail.cfm?cat=Disney%20Ice%20Cream

And, I've also scanned the cover of Disney Adventure's The Lion King special issue magazine. It can be found here:
http://www.shakiraholics.com/disadventures.jpg

Source:
www.lionking.org/sequels/
09.17.2003 Amazon.co.uk Promotion
Simba B. notes:
FYI: Amazon.co.uk is running a new promotion: order the Lion King Special Edition and recieve a FREE "Simba" soft toy.*

Fine Print:
*Offer for a limited time only and subject to availability. Information correct at time of posting. A limit of one soft toy per customer order. This offer is only available to customers who order The Lion King Special Edition on DVD (ASIN B0000AOWLW) or video (ASIN B0000AOWLX).

( new picture , product information page )

Source:
www.lionking.org/sequels/
09.16.2003 New TLK DVD Gift Set Photo
Lindsay Mayer noticed this at UltimateDisney.com :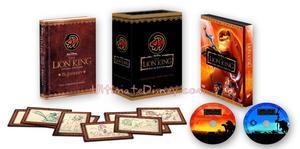 Looks much better than previous shots; the character sketches are indeed originals, and there seem to be at least eight of them. This is looking better and better.
Source:
www.lionking.org/sequels/
09.16.2003 Deep Discount DVD for Netherlands
Reinald Snel alerted me to this offer at MovieGuide, a Netherlands movie site:
MovieGuide.nl biedt de echte DVD-liefhebber de unieke kans om de speciale uitvoering van Disney's bekroonde "The Lion King" op DVD nu al online te bestellen met een aantrekkelijke korting.

Voor slechts € 14,- (excl. €3,95 handlingverzendkosten) wordt de DVD op uiterlijk woensdagochtend 15 oktober bij jou thuis bezorgd worden.
In other words, you send them the e-mail addresses of your friends, and if they sign up, they get the DVD for about half-price. The downside? You're giving the site e-mail addresses for mass-marketing purposes. But it could be worth it to you if you...
Source:
www.lionking.org/sequels/
09.14.2003 Disney Adventures Collector's Issue
As noted by Minna, Disney Adventures magazine has put out a commemorative TLK Collector's Issue, which includes a free poster and other items and DVD info.
Source:
www.lionking.org/sequels/
09.11.2003 Vinyl LP Soundtrack Details
Simba B. found that both Borders and Circuit City will be stocking vinyl LP versions of the Special Edition soundtrack. Borders shows an eleven-song track listing, though, whereas Circuit City lists the same 14 tracks shown below for the CD version.
Source:
www.lionking.org/sequels/