02.15.2003 "Special Edition" Soundtrack
Simba B sends the following clarification regarding the soundtrack for the TLK Special Edition DVD:

I read Jake Lipson 's response to my January 26 post of the Lion King Special Edition Soundtrack. It seems that I got the release dates of Beauty and the Beast's Special Edition Soundtrack confused. I think the Lion King Special Edition Soundtrack hasn't been released yet because the song "Morning Report" wasn't finished before December.

I'm hoping that Disney will release The Special Edition Soundtrack sometime this year.
Source:
www.lionking.org/sequels/
02.06.2003 TLKoB in Atlanta
TLKoB is coming to Atlanta! It'll be a special seven-week, 28-performance engagement at the Atlanta Civic Center. For more information, see http://www.geocities.com/busa_simba/brwayupdates.html .

The official site for the Atlanta engagement is at http://www.atlanta.net/lionking/ .

Source:
www.lionking.org/sequels/
01.28.2003 TLKoB Sweepstakes
Interested in seeing TLK on Broadway, but can't afford tickets? Jake Lipson has some good news:

Disney is now running a contest to win 8 (yes, 8) free tickets to The Lion King in New York City with a backstage tour following the performance. Transportation and hotels are also provided in the prize package. And if you loose the grand prize, they've also got a "Simba Prize Pack" and a "Nala Prize Pack" to give away, too. For more, go here:

http://disney.go.com/disneytheatrical/lionking/sweeps/imax/index.html
Source:
www.lionking.org/sequels/
01.26.2003 "Special Edition" Soundtrack?
Simba B speculates on the release of a new version of the TLK soundtrack following the DVD release: I've looking at some Beauty and The Beast products on Amazon.com. Amazon.com is selling a Special Edition soundtrack that has music from the Platinum Edition of the film. This CD was released after the Platinum Edition came out. I hope that Disney will release a Special Edition soundtrack for the Lion King as well. We could see the "Morning Report" on the soundtrack and possibly an early version of "Can You Feel the Love Tonight" and maybe another demo song. Jake Lipson has more on this subject: Contrary to your post, the Special Edition soundtrack for Beauty and the Beast was released in December 2001, immidately prior its IMAX debut, and the original CD was pulled out of print upon its release. The reason this soundtrack was released was to allow for the new Human Again sequence to be represented on the soundtrack. I had expected a repackaging o the Lion King soundtrack in 2002, but it probably didn't happen because Morning Report was not put into the IMAX version. (This is because Morning Report wasn't finished by the date, so they just IMAXed the original version.)Â But I too am expecting a Special Edition soundtrack re-release prior or coinciding with the release of the Special Edition cut on DVD. (Wishful thinking says I hope they also include Timon's Hula song, but I doubt it.) In addition to Morning Report, I would expect it to include the newly re-recorded Circle of Life ussed in the IMAX cut (as opposed to the original 1994 version of CoL) as welll as the updated versions of asny other songs they re-recorded for the IMAX release (I haven't seen the IMAX version yet so can't comment there except for CoL which has been publicly stated as re-recorded and definitly sounds different than usual in the first IMAX trailer.) Therefore I would advise anyone who wants but does not own the original soundtrack to go out and get it in order to maintain the original recordings.

UPDATE: Tanabi has the following to say: In your News and Sequels section, it says in the "Special Edition Soundtrack" article that there is a re-recorded version of Circle of Life in IMAX. I thought that there would be, because I read it out of a post in a forum... but I saw the IMAX release of TLK and listened very closely and paid close attention to everything that was modified from the original 1994 release. The "Circle of Life" sequence was not re-recorded. It is the exact same thing on the soundtrack. Just wanted to let you know.
Source:
www.lionking.org/sequels/
01.23.2003 New Offical TLK DVD Site
Thanks to Jake Lipson, Simba B, and others-- we've got an official Disney site now for the TLK DVD: http://disney.go.com/disneyvideos/animatedfilms/lionking/

As Jake says:

Although not much is there yet, a couple things are noteable. First, you can view the trailer for the DVD (as seen on the 101 Dalmatians II DVD), and second, there's a screensaver. Opening the screensaver once downloaded reveals the DVD release date to be as I pradicted: OCTOBER 7TH, 2003. This is official and confirmed!! No specs yet, though; let's hope for 1.66:1 anamorphic widescreen versions of both the new Special Edition and original theatrical cut.

Also, if I do say so myself, the character montage on the web site is very beautiful and I would love if it were to be translated to the DVD cover. It's certianly better than the VHS cover, but still not my dream cover.

I'd expect a press release and cover art very, very soon. Beauty and the Beast was announced a bit later last year, but with the website launched and trailers already being slapped in front of Disney DVD releases, I'd expect it a little sooner this time around.
I have to say I disagree about the art-- whoever they contracted to do the Web graphics needs a few more years at CalArts. Scar's missing his scar, for crying-out-loud-- and he looks more like Rafiki than Rafiki does. Yuck.
Source:
www.lionking.org/sequels/
01.21.2003 TLK DVD Read Along
There's a new "read-along" book/DVD set being released along with the TLK DVD. Information on that, and more, from Simba B:
I was looking at Amazon.com and saw that they are taking pre-orders for "The Lion King Dvd Read-Along". It will be released on January 28. It should have a storybook, songs, and games. The cover mentions "5 languages." I imagine that this product is for young children who are learning to read.

The spect ratio will be full scree, 1:33 : 1.

http://www.amazon.com/exec/obidos/tg/detail/-/B000087EY0/qid=1043187451/sr=1-3/ref=sr_1_3/104-4076554-6658325?v=glance&s=dvd#product-details

Amazon.com shows coverart similar to the Original Soundtrack coverart.

Coverart featuring Simba, Timon and Pumba is at: http://www.cduniverse.com/productinfo.asp?pid=5548026&cart=135508711&style=movie

Description from CD Universe:

This is a read-along version of the classic Disney movie. Wild Africa is the setting for this tale of a young lion cub whose evil uncle usurps his father's crown and lets hyenas overrun the kingdom. Dodging danger and befriending some oddball characters, the cub wanders until the day he's ready to return. Songs by Elton John and featuring the voices of Whoopie Goldberg, Cheech Marin, James Earl Jones, Matthew Broderick, Nathan Lane and Jeremy Irons. Academy Award Nominations: 4, including 3 for Best Original Song. Academy Awards: 2, including Best Original Score and Best Original Song (Elton John and Tim Rice: "Can You Feel the Love Tonight").

Best Buy mentions that "Lion King: Circle Of Life Sing Along Songs" in DVD format will be out on April 1, 2003 - April Fool's day?

Synopsis from http://www.bestbuy.com/movies/ProductInfo.asp?e=11206686&m=270&cat=&scat=:

Each episode of Disney's Sing Along Songs collects songs and classic scenes from the archives of the Walt Disney studios, offering them in a sequence younger viewers will probably enjoy. Most of the classic Disney characters make appearances in these thematically collected videos. This particular episode collects the songs from The Lion King, Pocahontas, The Aristocats, and many others. ~ Rob Ferrier, All Movie Guide

Source:
www.lionking.org/sequels/
01.19.2003 TLK DVD Release expected October 2003
From DVDtoon.com:

Disney has included a Lion King DVD teaser in the upcoming release of 101 Dalmatians II: Patch's London Adventure, which confirms an October 2003 release. The movie/dvd will include a new song, "Morning Report," and "new animation". Here are a few screenshots: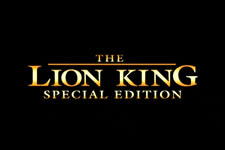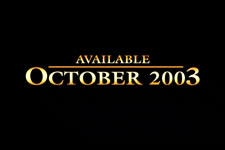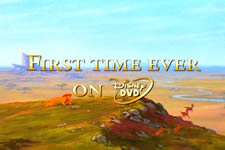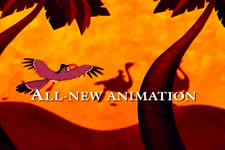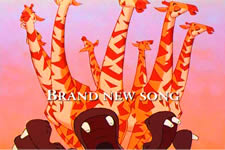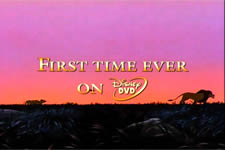 Source:
forum.planetlionking.com
01.18.2003: Book Info " The Lion King: A Giant leap "
From the description on mouseshoppe.com: http://www.mouseshoppe.com/product.cfm?ProductID=2491

"...The Lion King: A Giant Leap offers an exciting look at the technological innovations that allowed the animators to return to their original images and then enhance them for a bigger screen, as well as showcasing the development of the unique and luxuriant artwork behind the film, inspired by the majestic landscapes of the African savannah."

The book is a hardcover book containing 128 pages.


Sounds good to me. Also, some more on the DVD release:
I believe that Disney should release DVD details about the Lion King DVD in the second half of Febuary.

Disney has released their Platinum Edition DVDs during the 2nd Tuesday in October. We could see the Lion King in stores on October 14.
Source:
www.lionking.org/sequels/
01.18.2003: Making of Book
Christopher Finch recently wrote a book called "The Lion King: A Giant Leap" (with an introduction by producer Don Hahn.) It's been published by Disney's inprint Hyperion, and can be ordered here.

http://www.amazon.com/exec/obidos/ASIN/078685393X/qid=1042464005/sr=2-2/ref=sr_2_2/102-9541223-1032129

I haven't ordered it, so I don't know what it is, but I would assume it's being a making of book, most likely tied to the IMAX release, since it carries the IMAX poster as its cover.

Also: The Beauty and the Beast DVD specs were announced in a press release in late February/early March of last year, so Lion King's info shouldn't be too far off. I'm expecting the first or second Tuesday of October as the release date; let's just hope they keep it the original, un-enhanced theatrical cut at its 1.66:1 original aspect ratio; BATB was presented at 1.85:1 when in fact its OAR is also 1.66:1, and the "original theatrical cut" on that disc is just the SE cut minus Human Again.

And, if Disney decides to reissue Simba's Pride on DVD this fall too - which I have a feeling they will - that announcement shouldn't be too far off either.
Source:
www.lionking.org/sequels/
01.15.2003 " The Morning Report " : New Scene for DVD??
Simba B sends in two sightings of clues that the Platinum Series DVD of TLK, due out in October, will have a newly-animated sequence added to it. From a message-board rumor mill:
"Disney Feature Animation is finishing the "Morning Report" sequence as we speak and it WILL be included in the Lion King special edition DVD. you can find a trailer with this anouncement on the 101 Dalmatians 2 [Patch's London Adventure] DVD."

Posted by Anonymous:
"The Lion King platinum edition ... will feautue the new animted song sequence ... "The morning report"...

Posted by Alameda:
"It wasn't included for the IMAX release because the segment wasn't finished. ....Disney is hoping to boost the DVD sales with this new adition."
As Simba B says, "We'll have to wait for the 101 Dalmation's 2 DVD to arrive to comfirm these rumors."

Also, for a more reliable (but less detailed) source, though ultimately only a fan rumor, also via Simba B:
'Jicin' from Simba's Kingdom (http://www.simbaskingdom.org/) corrects that "it is already officially confirmed there will indeed be new scene in TLK on DvD. I don't know if it will be the 'Morning Report' though. The only thing that was certain that it would be a 'Broadway' song." 'Tom' adds that "a representative from BVHE Netherlands told me that Lion King would [indeed] get a new sequence with Zazu that was already in the musical."
Yikes. I wonder what this will do to continuity, and the whole "pouncing lesson" thing...
Source:
www.lionking.org/sequels/
12.31.2002 DVD Extra List " A Mile Long"
Simba B and Heather Moesel both send this snippet from animated-movies.com:

Producer Don Hahn told the OC Register that "we debated [adding new scenes]. Essentially, we decided to leave it alone. We said, let's just do the restoration." So the colors are sharper and the details more detailed, and the soundtrack has been remixed. Eager to capitalize on the film's success, Disney has also produced a wealth of tie-in products for the film, shooting documentary footage in Africa and an interview with soundtrack composer Elton John for inclusion in a DVD release next fall. "The list [of DVD extras] is a mile long," Hahn said, before confirming that the next Disney animated hit to get the Imax treatment would be Aladdin.
Source:
www.lionking.org/sequels/
12.17.2002 IMAX Theater Ready to go on Christmas
Many alert viewers of The Disney Channel and other sources have noticed that the official opening date is now being advertised as Christmas Day, 12/25-- and advance screenings and premieres are already open. Nigel Hodgetts sends this poster image, which is appearing on marquee posters and billboards.
Source:
www.lionking.org/sequels/
11.20.2002 Changes in the IMAX Release
From animated-movies.com:

"The latest edition of MouseHole indicates that the large screen version of the movie includes a "complete overhaul of the Ghost of Mufasa scene: many more layers were added to the animation to give it a very ghostly look." Also, the controversial scene in which the "special effects" animators jokingly spelt out S-F-X or S-E-X in the sky went through a "cosmetic change" to put an end to the rumors. Other than that, "most changes are small such as animating more detail on all the animals at the end of 'Circle of Life.' Close-ups on the lions required the redrawing of the whiskers so they weren't so thick on the big screen. They look like hairlines now and are MUCH thinner than the lines used to draw the characters."
Source:
www.lionking.org/sequels/
11.13.2002 TLK IMAX is a guinea pig
Jim Hill Media has an article explaining how the success of TLK in IMAX will determine what other films Disney re-releases in that format:
Why abandon the IMAX re-releases for Disney's older films? Because, to be honest, it cost a lot of money to reformat these 10-years old (and older) pictures for large screen theaters. Not to mention all the time and the money that has to be poured into cleaning up these films. Redrawing and/or replacing awkward pieces of animation which - when shown on a 10 story tall screen - look just awful.

Mind you, clean up work has already been completed on the IMAX version of "Aladdin." And I'm told that Disney's animators are still hard at work on all the repairs that need to be made to "The Little Mermaid" before that 1989 film can look beautiful on large format screens.

But that doesn't guarantee that either of these two films will ever be shown in the IMAX format. A lot depends on how the large format version of "The Lion King" does this holiday season. So - if you want to see Ariel and/or the Genie on the really big screen - make sure you drag all of your friends and family to see "The Lion King" in IMAX.
Source:
www.lionking.org/sequels/
11.05.2002 Again to Christmas
The date at the official site once again indicates a 12/25/02 release; thanks to Greg for the pointer.
Source:
www.lionking.org/sequels/
10.28.2002 New Yeahr's Day Release again
As pointed out by Snala, the trailer at the URL below once again points to a release date of January 1, 2003 for the TLK IMAX presentation.
Source:
www.lionking.org/sequels/
5.30.2002 New Poster for TLK IMAX Release
"Cub Statil<" sends this image of what appears to be the new promotional poster for the Christmas release.
4/13/02 - IMAX release date changed to Christmas 2002

According to the URL given just below, the release date for TLK in IMAX theaters will be December 25, 2002. This moves the date back one week, for reasons at which we can only guess.
Source:
www.lionking.org/sequels/
4.13.2002 IMAX Release date changed to Christmas 2002
According to the URL given just below, the release date for TLK in IMAX theaters will be December 25, 2002. This moves the date back one week, for reasons at which we can only guess.
Source:
www.lionking.org/sequels/
1.5.2002 TLK in IMAX 1.1.2003
With the IMAX release of Beauty and the Beast, its new IMAX-ified TLK trailer, and http://disney.go.com/disneypictures/lionking/index.html, we now

know f

or sure that TLK will be in IMAX a year from now. No Aladdin, it would seem. And that most likely also translates to an October 2003 DVD release.
Source:
www.lionking.org/sequels/
9.25.2001 TLK Scheduled for IMAX Release
A press release in LF Examiner (www.cinergetics.com) reports that The Lion King will be released to IMAX and other large-format theaters on January 1, 2004. This news was announced by Disney to an invitation-only audience of exhibitors at the annual Giant Screen Theater Association conference in Chicago. This release of TLK will follow an IMAX release of Beauty and the Beast, on January 1, 2002, and an Aladdin IMAX release a year later. Confirmation of this upcoming BatB release can be found at Disney's site.

The DVD release for BatB is scheduled for October 2002, and so we can probably assume that Aladdin will reach DVD in October 2003, and TLK in October 2004, following that same pattern.

The IMAX release of BatB will contain a previously animated but never-released song and scene called "Human Again"; it is not known whether TLK will contain any new footage, but word from the animators is that the touch-ups for the IMAX release consist mostly of filling in details that otherwise wouldn't have been visible-- characters who were originally too small to have faces drawn in, for instance.

Source:
www.lionking.org/sequels/