10.06.2003 TLK 1 1/2 Site Online at Disney
No more speculation: it's official. Disney has posted their own TLK 1 1/2 site -- complete with release information, video clips, games, and that "Timon's Diary" thing that was released with the TLK DVD. And a rather cool Flash menu, too.
Source:
www.lionking.org/sequels/
10.06.2003 TLK 1.5 Writing Credits Change
The IMDb page for TLK 1 1/2 has been updated to list original TLK writers Roger allers and Irene Mecchi as providers of "additional screenplay material":
Roger Allers (additional screenplay material)
Irene Mecchi (additional screenplay material)
Tom Rogers
Evan Spiliotopoulos (additional screenplay material)
Bradley Raymond is listed as the director.
Source:
www.lionking.org/sequels/
10.06.2003 TLK 1.5 Info at DVDtoons
There's a lot of info about the upcoming TLK 1 1/2 DVD set at DVDtoons.com . That's right, DVD set ... apparently there will be two discs, with lots of goodies on both.

Release date is given as 2/10/2003, which I can only assume should be 2004.
Source:
www.lionking.org/sequels/
10.05.2003 TLK 1 1/2 Mini-Storybook in TLK SE DVD
The DVD set of The Lion King , released this week, contains a mini-storybook outlining the story of The Lion King 1 1/2 .

Do you wanna really know how Simba became king in The Lion King ? Well, The Lion King 1 1/2 reveals the story BEHIND the story. You'll learn all about it as you read Timon's diary, which we found under the rubble of a hyena graveyard.

Day 1
Dear Diary,
I'ts me, Timon. You know-- that mischievous meerkat with exciting news. Instead of digging tunnels from dusk to dawn to hide the pack from the hyenas, I'm moving up to hyena lookout!

Day 2
Dear Diary,
I'm in deep doo-doo with the village. Last night when I broke into song on the watch, the hyenas came a-running. It's time I leave to follow my dream and find a place with no worries...
I'm just worried I won't find such a place.

Day 3
Dear Diary,
Today I ventured off to where no meerkat has gone before... and I WANTED MY MOMMY! Then I met a wise old monkey, Rafiki, who filled me in on Hakuna Matata, which means no worries! And, it's my new way of life!

Day 4
Dear Diarrhea,
What a scare I had today! I ran into this warthog named Pumbaa. At first I thought he was going to devour me like an appetizer, but we bonded like peanut butter and jelly. I know we're going to be best buddies.

Day 5
Dear Diary,
Today was a big day in the Pride Lands. There was celebration for the birth of the king's son. All of a sudden the animals started to bow. I thought it was to honor their king. Then I got a whiff of what brought them to their knees. Guess who was responsible for the ill wind? Pumbaa, of course. So now we have to set out for greener pastures.

Day 10
Dear Diary,
We found our dream home! Waterfalls. Swimming pools. Best of all a scruptious assortment of bugs!! But that's not the big news. We rescued a little lion cub named Simba and now we are his foster parents.

Day 54
Dear Diary,
I know it's been a while, but this parenting stuff takes a lot of time—potty training, game playing, bug belching and slug slurping. We're like kids again! Life is bliss.

Day 272
Dear Diary,
There's a girl in the picture. This Nala person was going to have us for lunch—when Simba rescued us. Wouldn't you know it, they were old pals. You should see all the nuzzling and smooching. We hope it's nothing serious!

Day 363
Dead Diary,
Simba bailed on us to reclaim his kingdom. Maybe it's a good thing, but he's going to need our help.

Day 368
You'll never guess who we ran into when we were on our way to help Simba. MA and UNCLE MAX! That's the good part. The not so good part is STARVING HYENAS chased us! But we set a trap, distracted them with one heck of a hula dance, while Ma and Uncle Max dug a tunnel underneath them. KABOOM! No more hyenas! Simba took his place as king on Pride Rock—and the circle of life continues.

So if you think this sounds like a laugh a minute, you're right. Don't miss the whole hilarious story behind the story in The Lion King 1 1/2 . It's a total gas, and we ain't lion! Hmm. Sounds like a lot of fun. Also sounds like they're playing fast and loose with plot continuity; they're saying Timon met up with Rafiki before he met Pumbaa, and he learned the "hakuna matata" philosophy from him? So why does he say, "Who's the monkey? " later on in TLK? Sounds rather like how Star Wars wrote itself into a corner-- why did Owen not even recognize C-3PO when he bought him from the Jawas, if the droids had used to live on that very farm?

Blah. Too nit-picky, I know-- and I'm sure TLK 1.5 wil be so full of anachronistic gags that these kinds of observations just don't work. But still.
Source:
www.lionking.org/sequels/
09.21.2003 TLK 1.5 Cover Art Spotted
Natasha Amos has found, on a German site, what appears to be the cover art for TLK 1 1/2 (which, remember, will apparently be TLK 3 everywhere but the US):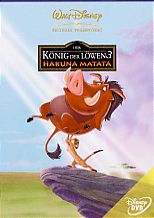 Thus far, this thumbnail version is all we've seen; a higher-resolution one is bound to surface soon.
Source:
www.lionking.org/sequels/
09.15.2003 Synopsis and Release Date for TLK 1 1/2
Several people, among whom Jake Lipson was the first, forwarded me the first official release information from Disney on TLK 1 1/2. The release date is given as February 10, 2004.
Hilarity reigns in this all-new movie starring Timon and his windy pal Pumbaa -- and featuring the new song "That's All I Need"! Now, in THE LION KING 1 1/2, see how things really happened -- according to their perspective -- in this rip-roaringly funny story within the story of THE LION KING. Find out the truth about some "passed" events -- such as when King Mufasa introduced his young heir to the animal kingdom. Let's just say there was something behind that dramatic moment when all the animals bowed to their new ruler! In this all-new comedy-adventure, Timon and Pumbaa reveal the true hullabaloo behind their departures from their meerkat and warthog 'hoods. Tag along as the two buddies from the brush search for their dream home, share their joys and trials as they raise young Simba using the "Hakuna Matata" philosophy, then cheer them on as they help Simba save the Serengeti and reclaim his place atop Pride Rock. Nathan Lane, Matthew Broderick, and the original voice cast return for this all-new hysterical musical tale -- and meet colorful new characters like Timon's Ma and Uncle Max! Get ready for some king-sized fun with Timon and Pumbaa, the greatest unsung heroes of the savanna. They were there . . . and they ain't LION!

Source:
www.lionking.org/sequels/
09.11.2003 Trailer Spotted on Jungle Book 2 DVD
Elfasi has recorded the trailer for TLK3/TLK1.5 that appears on the Jungle Book 2 DVD. It's in AVI/DiVX, in small (7.0M) and large (16.9M) versions.

Source:
www.lionking.org/sequels/
09.10.2003 TLK 1 1/2 in US, TLK 3 Elsewhere

Caji notes the following:
America = The Lion King 1 1/2 this is the official title as listed and endorsed by Disney for the US run and merchandise.

Everywhere Else = The Lion King 3: Hakuna Matata Same movie, but different title, I have a picture of the cover (well Der König Der Löwen 3) as this is the German release name.

Why Disney is renaming the foreign release, I have no idea. TLK 1.5 will be out in February for region 1 viewers, and for our export buddies it will be out in March.
I wonder if that's what they intended all along, or if there's as much confusion within Disney as there is out here?
Source:
www.lionking.org/sequels/
08.29.2003 TLK 1 1/2 Book Available at Wal-Mart
You can pre-order the TLK 1 1/2 children's book (24 pages) for $3.59 at Wal-Mart online.


Source:
www.lionking.org/sequels/
08.20.2003 "Digga Tunnah" Bound for Store Shelves
According to Simba B.:

The song "Digga Tunnah", a tune rumored to be written for The Lion King 1 1/2: Hakuna Matata will be on the "Sing-Along Songs: Brother Bear On My Way" DVD.

Source:
www.lionking.org/sequels/
08.19.2003 Timon's In-Laws Sighted!
The eagle-eyed Laura, aka "Coolraptor", provides this intriguing development:

Today I walked into a local Waldenbooks and saw this 16-month 2004 Lion King wall calendar. I've included a snapshot below. Nothing on the outside suggested it contained any material on the upcoming TLK:1.5 but I've been starved for merchandise for the past 9 years, so of course I picked it up :)
Besides the big picture for each month, there's also a little pic down in the corner...and the one for September 2004 included these two little meerkats I've never seen before (see attached scan)!!! I can only assume they're Timon's mom and Uncle Max from the upcoming sequel! Wheee!!!! Anyways, just thought you'd like to know.
Source:
www.lionking.org/sequels/
08.19.2003 TLK 1 1/2 on Game Boy Advance
There appears to be an upcoming Game Boy Advance game based on The Lion King 1 1/2 , according to the following three game-watcher links:

http://www.advance-power.de

http://www.compucentre.com

http://e-buy.metafore.ca

From the look of things, the game is scheduled for an October 10 release.
Source:
www.lionking.org/sequels/
08.09.2003 Back to TLK3?
I couldn't find anything about this on www.lionking.org, so I just figured I'd alert you to this just in case nobody else has bothered to do so. I was just watching the recently released Scandinavian DVD version of The Jungle Book 2, and to my great surprise, among the "previews" (you know, the ones Disney always make you watch before the menu comes up) was an actual trailer for "The Lion King 3 - Hakuna Matata" (I guess this is the official title then, not TLK 1.5). New animation and everything. It consisted of footage from TLK (the _real_ TLK that is) with the silhouettes of Timon and Pumbaa popping up in front of it, talking about the movie. Then Timon picks up a remote control and fast-forwards to the part where they come in, and they get into a discussion (Pumbaa insists they have to watch the film from the beginning). Eventually Timon rewinds it and promises that they'll go all the way back to _before_ the beginning.
So it's TLK3 again, is it? Interesting.
Source:
www.lionking.org/sequels/
05.15.2003 February 13 Release
Jim Hill Media says that TLK 1 1/2 will be released on Friday, February 13, 2004. Also, a Special Edition of Simba's Pride will appear on August 31, 2004.
Source:
www.lionking.org/sequels/
05.14.2003 TLK 1 1/2 Children's Books Set for January Release
Simba B. has found a list of TLK children's books at Random House's site. The list includes a "Lion King 1 1/2" book whose publication date is given as January 2004.

Source:
www.lionking.org/sequels/
05.12.2003 Cheech and Whoopi Back on Board; New Logo
Several people have mailed me with this story from Video Premiere Awards :
Whoopi Goldberg and Cheech Marin have rejoined the voice cast from the original The Lion King for Disney's second animated DVD premiere sequel, The Lion King 1½, which will be released Feb. 4.The project, which DVD Exclusive (formerly DVD Premieres) has been tracking as it has gone from being called The Lion King 3 to The Lion King 1½: Hakuna Matata, has already been in the works for more than three years since sister publications VB and Variety first broke the story in 2000.
The article includes the new official logo for the movie ("Hakuna Matata" has been dropped); I've replaced the banner for this page with that new image.
Source:
www.lionking.org/sequels/
05.09.2003 Spring 2004 Release, and Lots More Details
A real, live news story from The Hollywood Reporter, carried on Yahoo! News , has a ton of new info on release dates and the nature of the new movie.
"Lion King 1 1/2' will be marketed to the broadest possible audience, from 'anyone who bought the original 'Lion King' plus anyone who's come into the marketplace since then,' Chapek said. Ad spending and marketing campaigns have not been defined, but they will reflect the importance of the franchise, he added.

'The Lion King 1 1/2' DVD will also provide music videos, deleted scenes, behind-the-scenes views of how the movie was made and two featurettes: 'Timon -- The Early Years,' a mockumentary tracing Timon's childhood through tongue-in-cheek interviews with family and friends; and 'Disney's Funniest Moments,' highlighting Disney animated characters from the Seven Dwarfs to Brother Bear.

Two games also will be included: a virtual safari 'backlot tour' through the Pridelands and a 'Lion King' trivia game in the format of a 'Who Wants to Be a Millionaire (news - web sites)' parody.
Source:
www.lionking.org/sequels/
03.26.2003 TLK1.5 Visions and Insights
I just received an e-mail from "AnonyMouse", who-- let's just say, is in what I'd consider to be a very respectable position to comment on the state of the new Lion King movie. 1. The film is called "The Lion King 1 1/2: Hakuna Matata". Yeah, it's corny, we all agree.

2. Yes, we see how Timon and Pumbaa meet. We also see the circumstances under which Timon leaves the meerkat colony. And yes, it takes place DURING the first film, explaining and affecting events that took place in the first (believe me, you'll never watch the original TLK the same way again!)

3. The song "Wharthog Rhapsody" has been extensively rewritten and renamed "Meerkat Rhapsody", as it tells Timon's story rather than Pumbaa's. The tune is still more or less the same.

4. What's with that rumor about clearing up a plot hole from TLK2? There's nothing remotely like that in this film. Also, the rumor about a fourth film is bogus. We would have heard about it - we know what our next upcoming films are months ahead of time. We've got Lilo & Stitch, Tarzan, Bambi and a few other things lined up, but there's been no mention of any other TLK stuff.

5. This is most definitely Timon's film - Pumbaa plays an important part, but the film is really as much about Timon's journey as the original TLK was about Simba's journey.

6. And it is very, very funny. No bias here: the lecia reel cracks us up every time. I didn't particularly care for TLK2, but this... THIS is the sequel I would have chosen to make. And I consider myself a true TLK fan. :)

7. At this stage it will be direct-to-video. The animation is as good as that in the ORIGINAL TLK (seriously) but DTV releases make Disney more money. :P
Sounds like very encouraging news, if this all pans out.
Source:
www.lionking.org/sequels/
03.15.2003 Fall Release Date Confirmed?
Jim Hill Media has this bit of news:
Not another direct-to-video 'Lion King' sequel (Though -- that said -- I have been hearing that the Aussies did a really nice job with "Lion King III," which is due to hit store shelves sometime later this Fall), but an actual film of their very own to produce.
III or 1.5? Who knows...
Source:
www.lionking.org/sequels/
01.03.2003 TLK 3 and TLK 1.5...
More Information about The Lion King 3,4 and The Lion King 1.5 at forum.planetlionking.com from a disney inside!

I'm not complete convinced, but
Check this out and make your own conclusion.
Source:
forum.planetlionking.com