The Lion King is an amazing production
Even more amazing are the people who
make it work! The talented actors and
crew put us in the middle of our favorite
movie and for two and a half hours we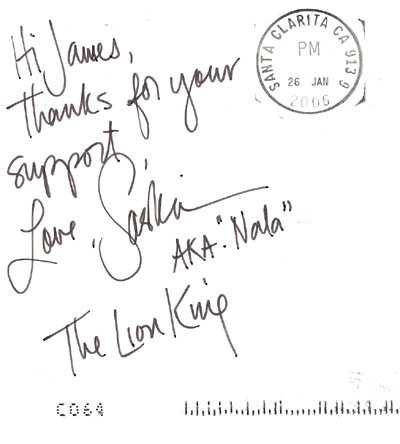 are in the Pridelands. From the opening
chant, to the crashing drums at the end,
we live the movie. Over the last year
I have collected a few autographs
from the musical. I have many more
yet to add, but here are the signatures
of some of Pride Rocks Finest!
Ms. Sakia Garel originated Nala for the musicals Toronto Run.
You can view more of this wonderful actress at www.saskiagarel.com
A big thanks to Ms. Garel for the quick response!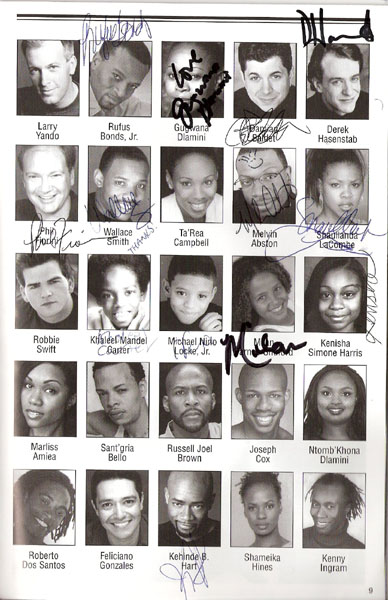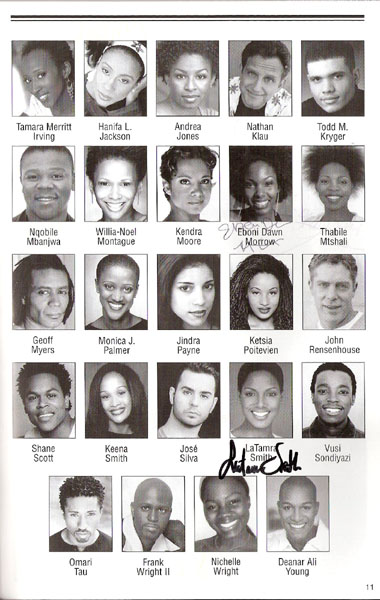 Here we have the cast of Cheetah Company, the west coast tour of the
Lion King. The eastern side of the country is the province of Gazelle
Company. I could not stand outside the stage door as the drive back
to my home town was four hours and it was getting late. So I mailed
one of my three programs to the Spokane Opera House. Here is the
result! Big thanks to everyone who signed! Ms. Campbell was on
vacation, but I plan on picking up that signature when I see the
cast again in Denver this fall.
Mufasa-Rufus Bonds Jr. Rafiki-Gugwana Dlamini Timon-Damian Baldet
Zazu-Derek Hasenstab Pumbaa-Phil Firoini Simba-Wallace Smith
Banzai-Melvin Abston Shenzi-Shaullanda LaCombe
Young Simba-Khaleel-Mandel Garter Young Simba-Michael Nirlo Locke, Jr.
Young Nala-Milan Barnes-Shuford Young Nala-Kenisha Simone Harris
Ensemble/Mouse Shadow Puppet/Pumbaa Pole Puppet-Kehinde B. Hart
Ensemble/Cheetah/Nala Pole Puppet-Eboni Dawn Murrow
Sarabi Understudy/Nala Understudy/Shenzi Understudy/Swing-La Tamara Smith
Assistant Company Manager-Lauren Klein