________THE________
LION KING
LINKS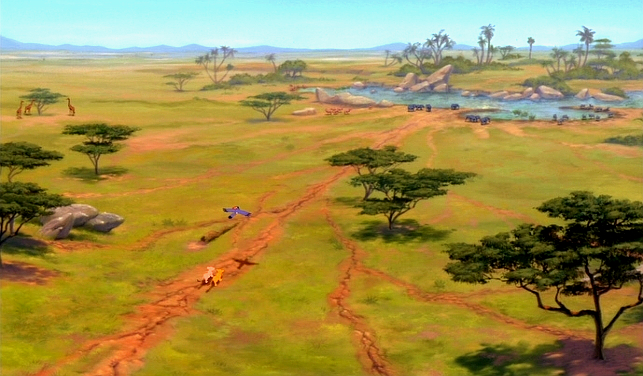 ---
THE LION KING SITES
The Lion King WWW Archive
Images, Sounds, Fanfic, Fanart, quizzes… a must see for any Lion King fan.

The Lion King: Digital Online
The best online collection of TLK screengrabs I know of - Great quality, high resolution. Also has videos and information about the films and musical.

The Lion King MUCK
Without a doubt, the best game I have ever (and still do!) played. For playing it, I recommend using MUSHclient, which you can download here for free.



LION KING RESOURCES
Kubo's Spot - Lion King Clipart
The best collection of (coloured) Lion King clipart on the web I have found on the web to date, all of which are great for using in posters, signs, and such similar things. Very printer friendly.

Lioncrusher's Domain
Here you will find natural history and behaviour, images, and range maps for mammals in the order Carnivora, including Canidae (dogs), Felidae (cats), and Hyaenidae (hyenas). This sight is a true essential if you RP animals as I do, or if you just wish to find out about them.

Online Swahili - English Dictionary
A very easy to use site where you can search for word translations from Swahili to English and vice-versa. Incredibly versatile.

Online Zulu Dictionary
In my opinion, not as good as the Swahili-English dictionary, but still a useful tool for translating. Also explains noun classes.

The Lion King Complete Score
Here may be found the entire soundtrack of The Lion King, the sweeping motifs and wonderful work of Hans Zimmer, from the Battle of Pride rock to rush of the Stampede. All of the tracks are the real McCoy. This is what everyone's been searching for. You will not be disappointed.



LION KING HUMOUR
48 Reasons You Know You're a Hyenaholic
I have 17, and I'm working on gaining more!

Channel Education/Information: "Interview with Scar: Yet Another Attempt To Prove His Innocence"

Forgetful Simba

Unofficial Lion King Fandom Test
A great and funny test by the wonderful Jason Knight. I scored 665 points on it! (top marks!)



LION KING WRITINGS
About Nala's Eye Colour
A common myth dispelled (and in a nice fancy way too)! Read on and find out the true colour of Our Lady Nala's eyes!

Chronicles of the Pride Lands
This is not so much of a fanfic as to something one could hold up and compare to a best-selling book in terms of style, story-telling technique, and plot. It is actually a series of four stories: Legacy of Ahadi, The Spirit Quest, Shadow of the Makei, and Under the Acacias. I have yet to read the third and forth books, while I'm reading my way through The Spirit Quest. Without a doubt, Legacy of Ahadi if my favourite book of all time, the quadrilogy of which spans over 466 A4 pages, quite probably making it not just the most well-known but also the longest fanfic based upon The Lion King.

Nala's Father
A very astute essay about why the author believes Scar is Nala's father (as I do). It's a very nice site too, so make sure to have a look around while you're there.



OTHER LINKS
Achaea - Dreams of Divine Lands
One of the most popular text-based MUDs (Multi-User Dungeon) around, Achaea is both a delightful experience, and a most addictive one. Not limited by the feeble constrains of your computer's graphical capabilities, the use of only text in Achaea provides a far more stimulating experience for the player than a graphically rendered one. With all organisations being player-run, and with up to two hundred players online a night, it provides a very rich, immersive roleplaying experience. I should caution, however, that it is highly addicting - in a good way!

Ctrl+Alt+Del
The most amusing web comic I have read to date, with a more than decent story line, along with occasional one-off strips. It's the sort of humour that anyone can get, not just super-nerds. Generally. Most of the time. Ish. Updates every Monday, Wednesday, Friday and Saturday.


Doc Rat
A medical-based furry comic, centering around the eponymous Doctor Benjamin Rat and his medical practice in the fictional Australian suburb of Templeton. Will be found to be extremely funny to anyone with a vague knowledge of medicine (due to occasional use of medical puns and wordplay), and just plain very funny to those lacking in the medicinal knowledge department. Updates every Monday, Tuesday, Wednesday, Thursday, and Friday.


Faux Pas
A furry-based comic, centered around a fox named Randy and his friends at a run-down farm in the Rocky Mountains, most of whom are semi-retired animal actors. Realistic anatomy, non-bipedal. Updates every Monday, Wednesday, and Friday.

Meercamenace on DeviantART
My account on DeviantART - the main gallery is somewhat varied, and I recommend (if you visit there) checking out My Favourites, as among them are some rather good Lion King pictures.

You Know You're a Furry Fan When...
Pure hilarity. And very true on a lot of them, for me!