Welcome to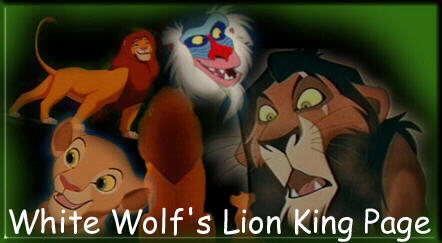 ---
Welcome, Lion King lovers and likers alike!
Well, I'm sure you know how TLK goes by now...and if not, you got some movie watching to do. The Lion King is a wonderful movie that moved me deeply, and it changed my life from the day I first saw it. I hope you enjoy my page....and I enjoy your feedback! :)

Lion King itmes for sale here!
---
This site is designed and maintained by Diana Kellogg.
All songs, images, and sounds are ©1994 the Walt Disney Company
This page looks best when viewed through my monitor.
Welcome visitor
[an error occurred while processing this directive]
since 6/9/96
---
| | | |
| --- | --- | --- |
| | | |


[ The Lion King Ring | Previous | Next 5 | Random | Next ]
This The Lion King Ring. site is owned by White Wolf.